Warehouse planning - consulting from our warehouse planners
Our warehouse planners support you with advice on warehouse planning
We are your innovative warehouse planners
Changing customer requirements induce an adaptation of warehouse structures. An ever shorter time-to-market, batch size 1, fluctuations in demand and technology pressure are just a few of the keywords whose implementation poses challenges for the industry. In order to be able to provide suitable answers to these complex questions, we have developed an innovative approach to warehouse planning to achieve optimal goals. In this way, we ensure companies' ability to innovate and increase both their economic and production effectiveness.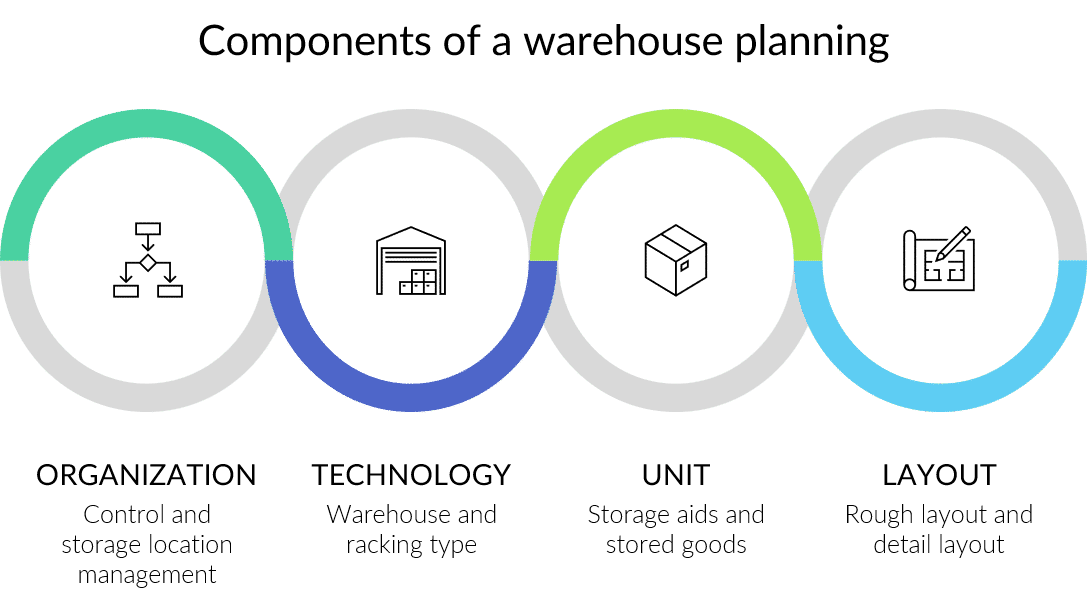 The four components of warehouse planning
In warehouse planning, our warehouse planners structure the consultation into the four elements of organization, technology, unit and layout. All four elements are interdependent and are to be processed iteratively and in parallel. Accordingly, the warehouse process can be optimized by the solution component of warehouse organization, whereby flexible storage areas are defined as well as concrete delivery concepts. In the component of technology, suitable storage and transport techniques are selected, which are more closely included in the planning, before it goes to the definition of the storage unit including the storage equipment as well as the final layout design. 
Do you need support and advice in warehouse planning?
For many years, we at Bross have been providing our clients with our expertise in the planning and consulting of warehouses, especially high-bay warehouses according to VDI 3656. So that you too are on the right path to professional warehouse planning.
Warehouse planning procedure
Read more about our innovative warehouse planning procedure below.
1. initiation of the planning of a warehouse
The first step of our warehouse planning approach is initiation. During initiation, the goals to be achieved must be formulated and planning restrictions identified. Based on this information we can analyze and evaluate the warehouse structures of our customers. In doing so, we rely on close cooperation with our customers in order to be able to respond to individual wishes and suggestions.
2. data analysis as a planning basis for warehouse planning
From the data analysis, we obtain all dimensioning-relevant parameters of our target system. These include the master data of the products to be stored as well as the movement data or performance data of the warehouse. In addition to the product types, important master data also includes the dimensions and weight. Properties such as explosive or flammable are also important information for warehouse planning. Furthermore, it is important to know which load carrier is to be stored, such as a pallet or a small load carrier (KLT). Performance data includes information such as the number of warehouse movements such as storage and retrieval. To perform a comprehensive, yet structured data analysis, we make use of forward-looking data mining methods (CRISP-DM). This makes it possible to record data from all areas (incoming goods, outgoing goods, production (supply)), to cleanse it and finally to extract information.
3. process optimization in warehouse planning for lean processes
Step 3 in the approach of our warehouse planners is process planning. Based on the ACTUAL process and the knowledge gained, we derive process alternatives. Not only are the restrictions, goals and wishes of our customers always taken into account, but the number and level of storage levels are also examined in order to avoid unnecessary storage at the wrong point in the value chain. In order to realize the customer's requirements, we rely on close cooperation to iteratively develop the optimal process.
4. system planning of solution variants in warehouse design
For the technical implementation of the planning project, requirements are established that represent the framework conditions of the target system. These requirements are compared with a catalog developed in-house and suitable systems are selected. In the catalog, all manufacturers such as SSI Schäfer, Swisslog, Jungheinrich, Knapp and Co. are listed and their solutions such as miniloads, warehouse lifts, AutoStore, automated guided vehicles (AGVs), etc. are listed and characterized. We present these systems to our customers as roughly planned variants. Based on our recommendations and the customer's ideas, the preferred variant is selected and planned in detail, according to the warehouse circumstances. Possible solutions range from manual to fully automated warehouses.
5. the realization of the bearing planning
The last step in the approach and consulting in warehouse planning is the support during the implementation. During the realization of the concept, we are always at your side as a partner with strong implementation skills. We support you with the preparation of all tender-relevant documents. Based on years of experience in the industry and project-specific characteristics, we recommend (sub-) trades and establish initial contact. By obtaining offers from various suppliers, we narrow down the selection of offers according to your objectives and present them to you in detail. In addition, after awarding the warehouse planning project to a suitable industrial partner, we take over all coordinative and organizational activities from the ground-breaking ceremony to the acceptance of the plant.